We're the Rotorua Singlespeed Society
In 2007, the Rotorua Singlespeed Society was formed by a group of local mountain biking enthusiasts to run the 1st Pig & Whistle New Zealand Singlespeed Champs on Anzac Weekend

2008.
(Check out the video...the story so far)...
The team included many people involved in mountain biking in Rotorua for a long time. Most were also part of the management team for the 2006 UCI MTB & Trials World Championships - from heads of department to volunteers in the trenches.

The 2008 NZ champs were a great way to kick off three top years, starting with an Anzac Day ride to the dawn service at Ohinemutu Marae on the shores of Lake Rotorua.
Later in 2008, the RSSS ran a very successful fund-raiser - a Big Night at the Pig - and got our two champs, Garth Weinberg and Annika Smail - both from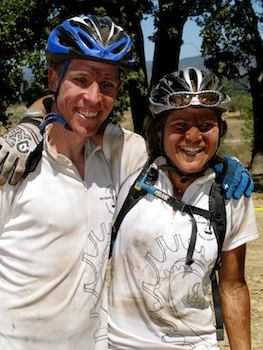 Rotorua - to the 2008 Singlespeed Worlds in Napa, California.
A support team also went to Napa on their own dime, including Dean Watson (NZSSC and SSWC event director), Carolyn Scherger, Graeme Simpson, Gregg Brown (main NZSSC sponsor), Heidie Verhagen and Marcello Ojerio. They were joined by Sandy Sherwin from San Francisco and Marianne O'Driscoll from Cork in Ireland.
Then, in September that year, two RSSS members, Vicki Butterworth from Hawkes Bay and John McCartney from Queenstown represented the Society at the
2009 Worlds in Durango in Colorado
and secured the hosting rights for the 2010 event.
The SSWC10 was sharp at the sharp end - with winning woman and man's tattoos up for grabs - and local hero, Garth Weinberg is 2010 men's champion.
For the 1st time the women's title also came down under with Heather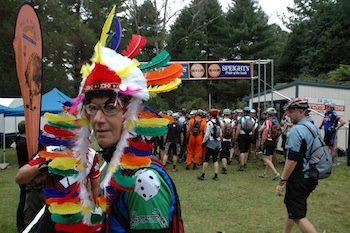 Logie from Australia, the champion.
However, it was also about costumes, beer and a celebration of cycling and singlespeeding.
Eccentric? Hell, yeah!
And fun - but there is also a more serious side.
The three year life of the RSSS has had some very positive results:
• the official estimate of direct economic benefit of the Singlepeed Words weeks to the Rotorua economy was $2.3 million.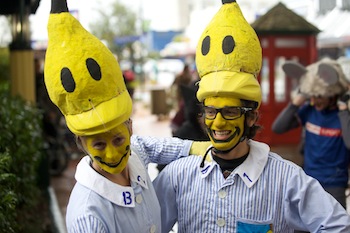 • over 500 riders entered the two New Zealand Singlespeed Champs with many coming from out of town and more $$$ in the Rotorua economy.
• Singlespeed Worlds produced great word-of-mouth and worldwide media coverage.
• the Society helped get Garth to Ireland to defend his title at the 2011 Singlespeed Worlds in Ireland. He was a fine 2nd...
The Society ran 2 more successful national champs, in 2013 and 2015 and then a 2nd Worlds in November 2017.
It's been a wonderful journey, stay tuned for more...
Photos:
1 & 2) Anzac Day 2008, dawn parade ride
(Graeme Murray)
3) Garth and Annika, Napa 2008
(RSSS team)
4) Legendary Rotorua mechanic Dale Hollows
(Greg Menendez), NZSSC08
5) Bananas in Pyjamas aka Nick Leary and Mark 'Cabin' Leishman, NZSSC09
(Graeme Murray)