SSWC08 - NAPA, CALIFORNIA...
In mid-2008, the RSSS ran a very successful fund-raiser - a Big Night at the Pig -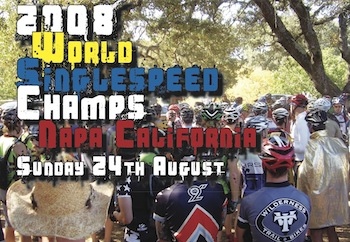 and got our two 2008 NZ champions, Garth Weinberg and Annika Smail, both from Rotorua - to the 2008 Singlespeed Worlds in Napa, California.
A support team also went to Napa on their own dime, including Dean Watson, Carolyn Scherger, Graeme Simpson, Gregg Brown (main NZSSC sponsor), Heidie Verhagen and Marcello Ojerio.
They were joined by Sandy Sherwin from San Francisco and Marieanne O'Driscoll from Cork in Ireland.
This is their story...
Thanks to Bruce, Carl and Nick at New Zealand Mountain Biker.