Getting Here...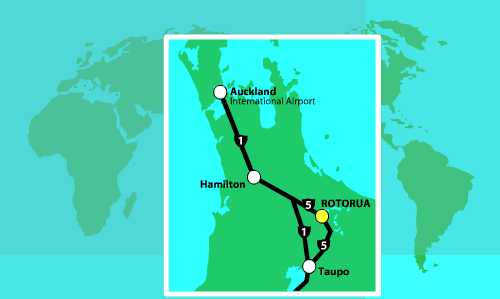 Welcome, Haere Mai...
You are are welcome in our town, anytime...
Our country is a friendly, benign place...
Top Canadian mountain bike cross country racer, Geoff Kabush's comment about New Zealand is right:
no bears, no snakes, no poisonous spiders.
Being from Canada and living part of the year in the southwest of the USA, Geoff knows what he is talking about.
To be honest, we do have a poisonous spider - the Katipo - but you are more likely to be run over by a bus than encounter one of these!
• However, like anywhere we have our share of bad eggs - so take usual precautions with your valuables and your bike!
• Rotorua is about 3 hours by car from Auckland and 5 from Wellington -
and with regular daily scheduled bus services from all North Island regional centres
and direct air services from Auckland, Wellington and Christchurch, Rotorua is very accessible.
• Another advantage we have is our currency.
If you're coming to Rotorua from outside New Zealand, check with our currency calculator
to see exactly how your Euro, pound or dollar compares to the New Zealand dollar -
you will be pleasantly surprised.
• Other stuff...
If you are bringing a laptop or iPod/iPhone etc you need to know that New Zealand
runs 230v AC, 50Hz power - with standard 3-pin earthed power outlets.
Many of you may need to purchase adaptors.