Vicki B goes to Durango...
"It's not about the bike".
It's a saying that certainly is true about the race to host the World Single Speed Championships. Actually someone at the after match function mentioned that Lance had thought about competing this year, in Durango - BUT his manager said it certainly wouldn't enhance his reputation so he opted not to.
I wonder why?
The Durango dudes who hosted the 2009 World SS Championships in Durango, Colorado certainly now how to throw a huge weekend of bike riding, bike art and culture and of course they know how to throw parties!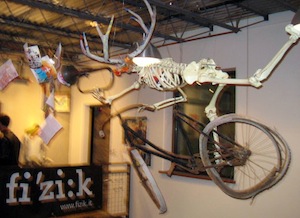 No it's not your average race and it's not a UCI sanctioned event but these events are for those passionate about riding bikes and the culture that comes with it.
Durango is a town already alive with a fantastic bike culture.
One of those rare places in the world where you able to get on your bike and hit the trails straight out of downtown or like Napier, just ride down the dual purpose walking/cycle ways meandering down the Animas river. Walk downtown and all the cafés, shops, libraries and salons (you're in the Wild West here) have bikes chained up outside them. You find lots of bikes and riders of all types and shapes riding around town. Disconcerting is the fact most don't wear helmets as you are not required to by law but you find 99% do when mountain biking. Just as well I found out!
A new experience was adjusting to the altitude; Durango is 6500 ft above sea level, at the base of the Rocky Mountains.
Once you start climbing you learn quickly it's harder to get oxygen into the lungs and muscles, so expect the throat to start burning. Mine is still recovering from being 'burnt out'! Some local riders told me it takes anywhere between six weeks to six months to adjust, hmmmmm.
I did something I don't normally do prior to a Mountain Bike event and I rode some of the course with a group of other keen riders the day before the race.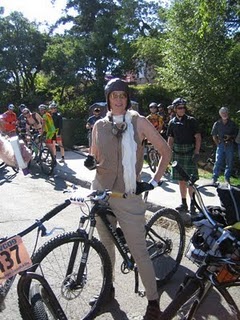 It became very apparent that it was suited to those who like hiking up hills with bikes, called 'Hike a Bike Sections' and then racing downhill on very technical rocky terrain. I had a ball with the new track conditions and a blast with the guys and gals. I found out later that the course designer doesn't believe in chains and picked some of the hardest local trails for this event. Thanks!
New Zealand has always been contenders for the hosting next year's World Champs.
Rotorua Single Speed Society was keen for my team mate John McCartney and I to try and win the rights to host next year's event. Little did we know what was in store for us!
During our travels towards Durango, a few days prior to the event, we were informed that one of us had to sing a song with a band at the pre-event party to decide the finalists. And so began one of the many 'Holy Shit – What am I doing!' moments that occurred in Durango. The song we had to sing was by Queen and so I duly elected John to sing.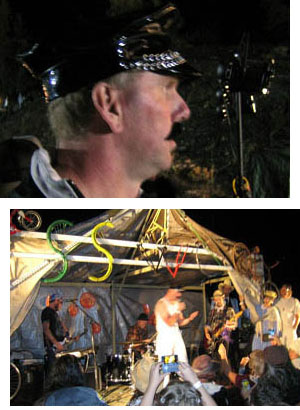 Reluctantly the quiet southern boy agreed and gratefully I have remained, for the time being, a Karaoke virgin.
I instead raced around town finding suitable attire for such an occasion and went to work bribing judges; we needed all the help we could get! It turned out this was to be American Single Speed Idol and John got to sing in front of several thousand people with his backing band and have the three judges give feedback – a very nerve wracking business but hilarious if it wasn't you up there. Well done John for your courage but don't give up your day job! The voting began and it turned out we had won the 'Sing Off'. Hungary and the other favorite Canada where 'knocked off' and that left us in the play off final the following night with Italy.
The new challenge was explained – we had to play basketball at the SKA brewery at the after party on Saturday night and we had to now find a basketball team to play. The 'singer' could play or opt to be coach and find a team of five members to play. Volunteers from the crowd were asked to step forward and show support for the team they wanted to win. We had four players step forward. Greg, James, Kaveh and Damo (from Aussie) offered their skills for the NZ team. John quickly decided he was too uncoordinated to play so was going to be 'Coach' and that meant we needed one more player and having played at High School I offered my services. The things one does after a few beers!
Before the game though we had a World Single Speed Championships to race in the morning, with a civil eleven am start.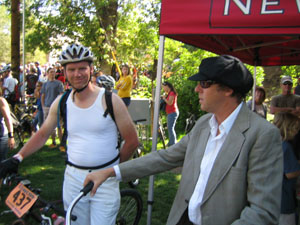 The day dawned still and fine, costumes were donned on and so began the role out of town. John had grown fond of his Freddy Mercury white singlet and pants and for me I had decided to go as a flying kiwi AKA Art Deco Amelia Erhart/Jean Batten. As you will find single speeders like to dress stupidly and then race mountain bikes with one gear. Like who races in 25 degree plus heat in a Santa outfit I ask you! Yup he did!
Approximately a thousand riders left downtown Durango to race the 22 mile course on their varied single speed steeds and all suitably attired.
Unfortunately or fortunately for me after the first few climbs I got to the first beer tent and decided that for many reasons I should retire early. I could enjoy the event from the safety of the sideline and I needed to save myself for the 'other' final.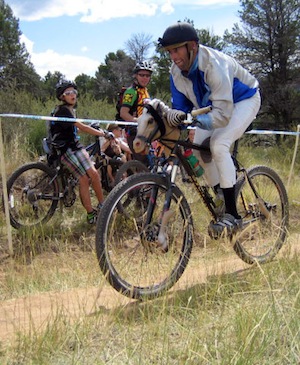 At this point it is realized that only eight riders are actually racing the race, the rest of us were just along for the ride. Thoughts of burning lungs at 7000 plus feet, unforgiving rock sections, snakes, bears, beers and the fact Jamie from Avanti Plus had kindly lent me his 29er bike. I really did want to be in a state to fly home on Sunday morning and be at work that week. All of this weighed heavily on my mind. Someone needed to take photos! So I had a wonderful afternoon in the tricky tree section, after the first loop, cheering all the other mad single speeders – beer in hand. The first rider down to us was Travis Brown, last years winner, looking very concussed and bleeding – my decision had been wise! The rest is history.
That evening John, Stephen and I rode to the micro brewery where our fates were to be decided.
The rumors started flying about the Italian team; maybe I needed another player if we were going to win this game. Finding the last ring in would certainly help beat the already confirmed all male Italian team. After several attempts of strolling up to 'tall' guys and girls, asking their basketball pedigree and if they had raced today I was almost ready to give up and resigned to having to play with the boys. Luck was on my side and I managed to track down local boy John AKA 'The Reverend' – game on!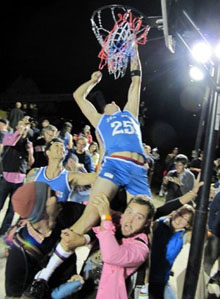 Teams assembled on court before being led away prior to the game to the changing rooms in theBrewery for pre-game drinks and to change into the special team uniforms. Retro tight singlet and shorts were the order including shoes and the rare and sold out white SS souvenir socks. Blue for New Zealand and Orange for Italy. An amazing kit - sexy!
Let the game begin – it was like no other I have or will ever again witness! Roller derby girls in wigs, dark sunglasses, tight leather outfits were the entertainment on the side line, the crowd packed to the edge of the court, commentators hanging over the court by cherry pickers!
Oh did I mention that the Italian guys were French? Yup the Italians had scheduled their SS Champs the same day - dodgy! So after aiming to start the game at 6pm it didn't finish till after 10pm. Chad Cheeney, organizer extraordinaire was overheard saying never again will he organize a basketball game!
The Italians tried dirty tactics early on but NZ held their own, taking the lead early and never giving it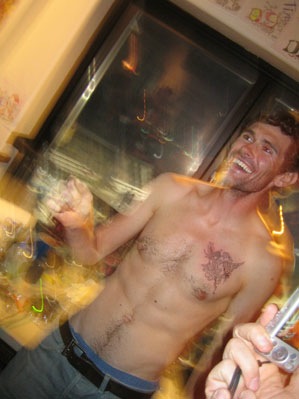 up! The first 10 minutes ended up with beer cups being thrown at the court, players crashing to the ground and I was wondering if the game would have to be called short but no the entertainment continued with some very intense, entertaining, unorthodox testosterone play taking place – on and off the court. At times I wondered if it was basketball and I was pleased I was not out there on court.
The guys did great! Especially considering they had been up parting the night before at American SS Idol, had raced hard that day and then had to play 'off' in a game of basketball. Italy tried to make a comeback towards the end of the game, the 'streaker' actually getting a goal for them. But it was NZ that came through and the crowd literally went wild with a huge pitch invasion on the final whistle.
The team was elated to have been involved in helping NZ win the rights to next years champs, the highlight of their weekend. The players had all got supplied some amazing kit, heaps of beers and will go down in history.
Thanks to John the Coach, Damo from across the ditch, Greg, Jon, James and Kaveh – legends in the Single Speed World! Thanks also to all my supporters back in NZ including RSSS, HBMTB Club, Jamie Sinclair, Steve McLeod, Malcom Vernon, Jon Prescott, Stephen Sheard, Dominic and my dad J (Who is grateful, I still don't have a tattoo)...
Photos: Bike art in Durango; Vicki as Amelia; j-Mc is "Freddie Mercury"; Team Kiwi; Bike Jock; Kiwis win b'ball - crowd goes wild; Rad Ross Schnell with 09 tatt...
• More from Vicki's blogspot....
• More photos from Durango 2009...