zeroseven at SSWC10...
Photographer and graphic designer Nick Lambert from zeroseven design in Rotorua was at the Singlespeed Worlds shooting for the team and for New Zealand Mountainbiker magazine's big feature on the race.
You'll have seen some of his work in the magazine, on the The Big Slide Show and with the story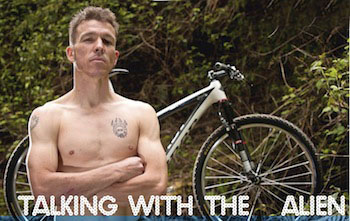 about Ben Bostrom's illustrious 3rd.
Now Nick's put a gallery of photos from the day, online - and there is definitely stuff even we haven't seen.
Rotorua's lucky to have great bike shops, trail builders, hardworking volunteers, event organizers and sponsors.
Expand the circle and there are world-class photographers and designers like Nick, Graeme Murray and Gaz Sullivan.
They're top mountain bikers, as well as trail builders in the Whakarewarewa Forest.
And they contribute to the 'perfect storm' of people who make it all happen in our town.
They tell the story and bring our big events - like SSWC10 and 2006 UCI MTB Worlds - and our trails alive for a worldwide audience.
Nice!