U2 coming? No, they're not...
Breaking News: Irish band U2 threaten to sue organizers of Singlespeed Worlds 2010...
When April Fool's jokes go bad.

There was a dramatic follow-up today to claims by organizers of this year's Singlespeed World MountainBike Championships that Bono and The Edge from Irish band U2 would be in Rotorua, New Zealand, in October for the event.
"An email arrived this morning from their solicitors, Sue, Grabbit and Runne, in Dublin," said SSWC10 spokesperson, Graeme Simpson, at a tense and emotional lunchtime press conference at Zippy Central.
"It said they act on behalf of U2 and we should cease and desist using images of them and making 'outrageous' claims. It also said they would hold us all personally liable."
It's the first time the team has had legal issues.
"A couple of years ago we put out a release on April 1, saying Lance Armstrong was coming out of retirement to ride in the 2008 New Zealand Singlespeed Champs and he didn't sue – well, not yet, anyway," said Simpson. "And last year we had a crack at the UCI and SSWC09 and they didn't sue. What the hell is it about creative people?"
For SSWC10 event director, Dean Watson, the issue could not have come at a worse time.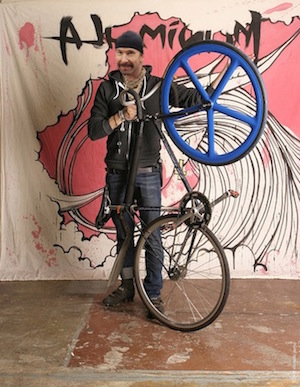 "I thought the (expletive-deleted) Irish had a sense of humour, " said Watson. "I'm supposed to be marrying an Irish woman in the next few months, but after this…." he added, his voice trailing off.
"On the other hand," he continued, perking up. "Singlespeeding is all about giving it to The Man, so I say let U2 and their corporate jackals take their best shot. If one of us loses our business, well, so be it - and U2Bikes has a nice ring about it.
We are sticking to to the story and the photos stay up."
The SSWC10 team refused to answer any more questions and were last seen at the race HQ, the Pig & Whistle pub.
Depending on whether or not the event organizers still have any money left after paying their legal bills, this year's Singlespeed World Championships will be raced on the magnificent trail network in the Whakarewarewa Forest on October 23.