Top 11 best cossies...plus 1..
Rotorua Singlespeed Society Best Dressed in 2010...


The Top 11 Nominees - plus 1 (and Brooke)...
Pics by our fantastic photo team:
The Mikes (Vincent and Breen), Helen Brumby, Alan Ofsoski,
Nick Lambert and Graeme Murray.
• AND THE WINNER IS....
Animal aka Tim Stanton, Christchurch, NZ.


Genius!
• Lance Drinkstrong - part of the Bike Vegas/Crouchers team of beer cans...check out the video of them crossing the stream...
...with one very noticeable failure...
• The Amazing Damo, Melbourne, Australia...
• Dejay from Niner, USA - also equal 1st with Brooke for "least dressed" award...
with the wonderful Ms Heather (be thy name) Irmiger, SSWC09 champ...
• Rob Bardsley - one of the 'Apocalypse Riders' with Mike Williamson, Darryl MacFarlane and Andrew Durno - Tall Beast and bassist for Head like a Hole...


• The Invisible Man...the extraordinary Ron King from Auckland, NZ...
• Mike Smurf - top Kiwi XC racer turns blue...
• Small Beast - Rotorua's Nic Leary's tribute to Durno...
• Lieutenant Dave Dangle (Rotorua 911)...
• If it's Yellow, let it Mellow...
• Asterix and Obelix...
Plus 1...
• Emily Miazga from Em's Power Cookiesand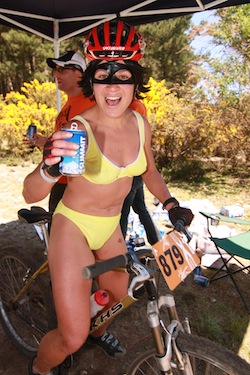 3 x Speights Coast to Coast champion
just missed out on the top 11...
...apparently she'd already worn the same cossie at some other event...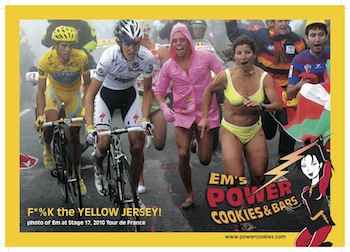 • And finally a very special 'out-of-competion' mention of the wonderful Brooke...

One of the Zippy Central crew and 'pit girl' supreme...
And she also jumped in and helped Carolyn selling beer tickets that night...
Thanks, mate!