RSSS might get a gong!
Immediate release: March 1
A single-minded approach to media and marketing.
That is what it took for the Rotorua Singlespeed Society to be shortlisted for the Sport and Recreation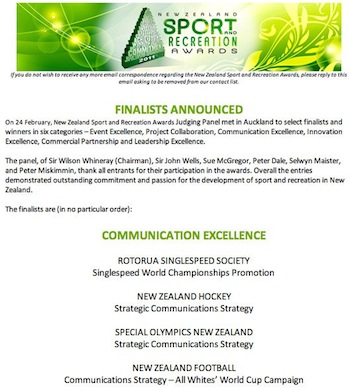 New Zealand (SPARC) Communication Excellence award for 2010.
The Society hosted the 2010 Singlespeed World Championships, in Rotorua last October, with over 1000 total entries from 30 countries taking part in a celebration of mountain biking.
The event was a great success with over two million dollars of direct economic benefit to the Rotorua economy.
The recent devastating earthquake in Christchurch has taken some of the shine off being on the short-list.
"Our Best dressed 2010 winner, Tim Stanton, lives there and so do a lot of friends and family," says Gary Sullivan who is President of the Society.
"Jeff Anderson at Kiwibikes in Rotorua built a special one-off frame to celebrate Singlespeed Worlds 2010 and Paul Larkin, who won the draw generously auctioned it, raising over $2000."
The winners of the SPARC awards will be announced at their annual dinner on April 18.
Sullivan and Graeme Simpson from the Rotorua Singlespeed Society (RSSS) were responsible for design, media and marketing for the event.
"Mountain biking with just the one gear is pretty eccentric in itself," says Sullivan who is President of the Society. "The World Champs are a reflection of this and 2010 was no exception with some wild costumes and a very tight race for the tattoos the men's and women's champions win."
For Simpson and Sullivan just being short-listed is a real honour and a surprise.
"Astonishing really - we did it all on a shoestring, the event is unusual to say the least and we probably should be disqualified for the corny opening line to this media release," says Simpson.
The story of the event really began late in 2007.
"A few of us, like Rotorua events organizer, Dean Watson, talked about running the first New Zealand Singlespeed Champs for a while and suddenly it all came together," says Simpson, one of the founding members of the RSSS.
"We set the date of Anzac weekend, 2008, and needed a logo and poster - Gaz had one sorted in no time. Literally - the "1" logo was a constant in the graphic design for the 2008 and 2009 New Zealand Singlespeed Champs in Rotorua - and then the Worlds, as well."
Sullivan and Simpson have worked together on other events and the promotion of mountain biking in Rotorua.
"Gaz designed the website and graphic look for the 2006 UCI Mountain Bike and Trials Championships in Rotorua and I was the media director," continues Simpson, "and we're both involved with www.riderotorua.com, among other things."
A passion for mountain biking is an important motivation to put time into working on events.
"We're lucky to have a couple of hundred of acres of mountain bike heaven in our own backyard in the Whakarewarewa Forest with kilometres of trails, mainly built and maintained by volunteers," says Sullivan who designs mountain bike clothing for his NZO brand in Rotorua.
"Graeme and I both moved our businesses here ten years ago, and we love the place - it's great to be able to give something back."
Mountain bike events are a significant bonus for the Rotorua economy and the 2006 UCI Worlds and the Singlespeed Worlds both resulted in worldwide coverage.
"It's more than just the one-off benefits and the events," says Simpson who is a TV producer and director.
"There are a lot of repeat visits because once you ride the Rotorua trails, believe me, you're hooked. The word-of-mouth just keeps growing every year."
The unconventional nature of the Singlespeed Worlds was a bonus.
"It's not your usual event," says Sullivan with a laugh, "and like a lot of these things the budget was very tight."
"It means you have to be a bit more creative to be heard," says Simpson. "And because the Singlespeed Worlds is a bit unhinged you can also have some fun with the media and marketing."
April Fools stunts were a particular favourite.
"In 2008 we claimed Lance Armstrong was coming out of retirement to race in the first New Zealand Singlespeed Champs," continues Simpson. "That got some interesting feedback from round the world and, of course, Armstrong did come out of retirement - just in 2009 and for the Tour de France."
Bono and The Edge from U2 attending the 2010 event in support of Ireland's bid for the 2011 championships was the subject on April 1, 2010..
"That also got some attention, especially a second media release saying U2 were suing us for making the original claim," says Simpson.
"You can't pull off these sorts of events without amazing contributions right across the board, from race organization to media and marketing to sponsors to the great team of volunteers who help run the show on the day," says Sullivan. "Rotorua is lucky to have had a 'perfect storm' of committed enthusiasts over the years, who are mountain bikers first and foremost."
Adds Simpson. "We were lucky to have a great group of photographers – Graeme Murray, Alan Ofsoski, Helen Brumby, Mike Breen, Mike Vincent and Nick Lambert – all sharing their talents and working their butts off."
Photos from the 2010 Singlespeed Worlds have appeared in magazines and on websites from Japan to the USA to Europe.
"One of the themes of 'media departments' on our events, especially in 2006 and 2010, is incredible support from talented individuals like these guys helping to tell the story and bring the event and our trails alive for a worldwide audience," says Simpson.
"We owe them - and others like Frank Bodenmueller, Rob Jones, Ian Batchelor, Tama Easton, Caleb Smith, Bruce Wilson and Carl Patton - a massive thanks for their generosity over the years."