ENDURO Magazine from Aussie covers SSWC10
Brett Kennedy came to SSWC10, drank beer, rode race, had a good time (he thinks!)...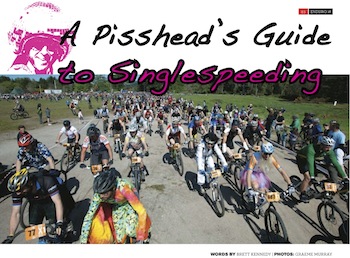 He's banged his vague memories into shape for the next issue of Enduro magazine in Australia with photos by Rotorua's own Graeme R. Murray...
DOWNLOAD IT BELOW...
Funny stuff: words and pics...
Ladies and gentlemen: The pisshead's guide to Singlespeeding...
Thanks very much to Adam McLeod of Freewheel Media for letting us use this article, even before it is even out in print in the next issue of Enduro.
We say to all Aussie singlespeeders, please race out and buy the print edition when it hits the streets. Freewheel are a great crew and deserve your support!
Enduro is part of Freewheel Media and Adam and Enduro editor, Mikkeli Godfree are long time friends of Rotorua mountain biking.
Mikk came over in the lead-up to 2006 UCI Mountain bike & Trials Worlds (which most of the Rotorua Singlespeed Society team were also involved in) and wrote a fine preview.
Then he returned - with Adam and a big Freewheel/Clict/Enduro crew - for the Big Show.
Their story about the 2006 Worlds was one of the very best - among world wide coverage, it really stood out.
Thanks, Adam. Thanks Mikk - and all the team.
Come back soon...