Drei Mal Eins - 'Just different'
Singlespeed World Championships...
Just different.

For the 12th time the Worlds were held for the one geared bikers.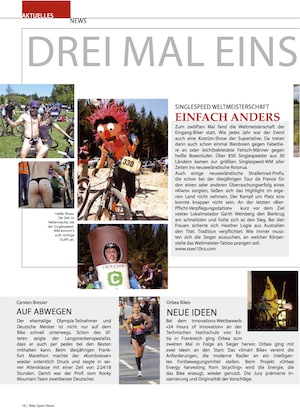 Like every year it also was a costume show at its very best.
There were beer cans and Animals, very lightly clothed fetishists and hot pit girls.
Over 850 Single speeders from 30 Nations came to the biggest Singlespeed World Champs ever - in Rotorua, New Zealand.
Also a few New Zealand Road Pro's. Even one who has raced successfully in the Tour de France this year, and had success there, would not miss the highlight in their own country.
The fight for first place could not have been closer.
On the last compulsory beer stop, just short of the finish line, local star Garth Weinberg, finished his beer faster and secured the victory.
The girls were won by Australian Heather Logie.
Tradition is a must. As always, the winners have to choose where on their body they would show their World Champion Tattoo.

Thanks to Bernd for the translation.