Animal takes Best Dressed in 2010 Award...
Immediate release: February 16.

It couldn't have happened to a nicer Muppet.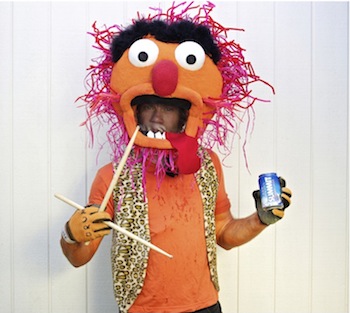 Animal wins the Rotorua Singlespeed Society's Best Dressed in 2010 Award.
The drummer in the Muppet Show house band competed at the 2010 Singlespeed World Championships (presented by Kiwibikes) on the mountain bike trail network on the southern doorstep of Rotorua, New Zealand, last October.
"Manamana," said the furry one (aka Timo St Anton, aka Tim Stanton), when reached for comment in his hometown of Christchurch.
"Doo doo di doo doo."
Deciding on the winner from the Top 11 short list for the Best Dressed Award was very difficult.
"There was some extraordinary work in each and every one of them – from The Invisible Man, to Mikey Smurf and Team Mellow Yellow to Apocalypse Riders, they're all draw-dropping."
In the end it was Tim Stanton who had the edge.
"Photos of Tim as Animal went all round the world with even a really serious website like cyclingnews.com running it as part of their race coverage," says Graeme Simpson from the Rotorua Singlespeed Society. "Sue George put a photo of him right in the middle of their MTB home page – it looked like bag of apricots and plums had exploded on the screen.
Tim's a big supporter of the Society, right from the first New Zealand Singlespeed Champs, we ran back on Anzac Weekend, 2008 and was the amazing Afroman at the 2009 champs."
It was touch and go that Stanton would even make it to the Singlespeed Worlds.
"His work was affected by the Christchurch earthquake not long before race week," adds Singlespeed Worlds event director, Dean Watson.
"We hope a special number 1000 Singlespeed Worlds race plate and a bag of swag will make up a little bit for that."

"The next time Tim's in town, he'll be able to gaze adoringly at a very cool portrait of Animal by Graeme Murray, then head to Agroventures for a go on the one and only Shweeb and some of the other great adventures, on up to Off Road New Zealand for some hot laps at Raceline's sensational new track, head out into the forest for a bike ride or one of Gabby's fantastic MTB Skills Clinics in brand new gear from Kiwibikes or Bike Vegas, then soak away the aches and pains at our world class Polynesian Spa," says Simpson.
"Then, it'll be time to dress up in a flash new t-shirt from NZO and go for a refreshing Speights ale or two and some good pub grub at the Pig, while catching up on all the latest mountain biking news in NZMTBR and SPOKE.
The perfect weekend In Rotorua for a mountain biker - you've got to love our sponsors."
The 2010 Singlespeed World Championships were a great success.
"A perfect spring day in Rotorua, over 900 riders from 30 countries and local singlespeed hero, Garth Weinberg, winning the men's title on home trails is hard to beat," says Sullivan, "and the enthusiasm of the riders really made it very special on race day and the week before."
Adds Simpson: "The Singlespeed Worlds are like the rugby sevens of mountain biking – some serious sporting achievement at the sharp end, wrapped in a massive, colourful party.
Most of us were involved in the UCI Mountain Bike & Trials Championships when they were in Rotorua in 2006 and the Singlespeed Worlds brought back some fine memories of town packed with mountain bikers."
"We were lucky to have a great group of enthusiastic photographers – Alan Ofsoski, Helen Brumby, Mike Breen, Mike Vincent and Nick Lambert – all sharing their talents and working their butts off for beer and t-shirts," says Simpson. "Their photos have appeared in magazines and on websites from Japan to the USA to Europe."
Top New Zealand adventure photographer and Rotorua local, Graeme Murray, was also shooting.
"Graeme's portfolio appeared alongside a great story by Irish journalist, Robert Tighe, in the New Zealand, South African and UK and Irish editions of Red Bulletin," adds Sullivan. "That's over 2 million print copies - and it was also in the international version on the Red Bull website."
Another magazine Graeme Murray provided Singlespeed Worlds photos for is Enduro magazine in Australia.
"It's another very funny story by Brett Kennedy with more great images by Graeme," says Simpson.
"Adam McLeod and Mikkeli Godfree from Freewheel Media are old friends of Rotorua mountain biking and have generously let us have the story - even before it's out in print.
We hope Aussie singlespeeders will still race out and buy Enduro when it comes out – they're great guys."
Pic:
Graeme Murray's post-race portrait of Animal for Red Bulletin.